Should I call this a late posting because actually I am not using internet browser at all? You might ask how the hell I can blog without internet browser. Ah! It's very easy. I am blogging in Microsoft Word, then later cut and post everything onto Blogger. That's not a very right way to blog because by the time you read this, my information has no longer been up-to-the-minute which the gist of blogging is.
But I cannot wait till tomorrow for Internet to directly blog online. I want to blog now, right after an event that I think is worth blogging. This event happened quite late at night so did the post. Live with it! Be a blogger is such a hard work. But I don't mind. I am so "dead" and "rotten" now that I need to write at least something everyday to know that I am still alive and kicking. (When the hell will my $$$$ arrive?)
Yeah! The event is that I have just watched Korean last year controversial blockbuster "
The King and The Clown
" (I am sort of out-of-date but late is better than none).
The movie was a hot burning headline for media, especially Asian media to discuss and criticize the whole year due to many of its controversy and marketing static. Early 2005, Oscar-winning phenomenon "
Brokeback Mountain
", directed by a Hollywood fame, Chinese director
Lee Ang
, was earning good saliva from critics and journalists. It enjoyed its privilege of being one the few first-rate movies to portray gay relationship truthfully to every little detail in a more personal and emotional angle. I haven't had the chance to watch the movie so I don't know what kind of details it is. However, according to my friend who had already both watched the movie and read the book, there is an "ASSHOLE-F*CKING SCENE" (exactly quoted) of two cowboys. Korean movie-makers were witnessing the commercial benefits endlessly flowing from such controversial blockbuster while realizing that Asian are gifted with more cultural background, exotica and potential to make that kind of psychologically sophisticated movie (ironically, BBM was made by an Asian too) than Westerners whose gay relationship is well known for strongly being associated with physical activities such as orgy and sport rather than mental progress. Therefore, they felt very frustrated and itchy to make a phenomenon of their own. And "The King and the Clown" was born in that situation as a result of the marriage between provoking controversy and timely release. In such a context, "The King and the Clown" could be compatibly compared to all-time-masterpiece "
Farewell my Concubine
" (
Kaige Chen
). In fact, the storyline and characterization these two movies, at the first glance, are amazingly similar that it is somehow fair to say that "The King and The Clown" is a Korean blunt remake of Chinese "Farewell my Concubine". I think I am biased because I totally agree with that statement. If there is anything I want to add in, it is "at a much lower quality". Maybe it is at a so much lower quality that at the second glance, "The King and The Clown" turns out to be nowhere near "Farewell my concubine" level, thus, it becomes so different from this already world-famed masterpiece.
That sounds so discouraging and demoralizing to anyone planning to watch the "The King and The Clown" later on. Because I don't want to be blamed for causing any slump of the movie, I shall give some of its scoring points right now.
1) Graphically brilliant! I love the color tone used in the movie: vivid and vigorous. Even the props and costume were designed and prepared carefully and flawlessly in the very same style. Therefore, the movie gives you the feeling of reading a colorful hand-printed picture-booked folktale.
2) Pretty actor Lee Jun-ki played the role of Kong-gil, a born gender-confused ("Gay" might not be contextually suitable and politically correct in this case, so I will replace it with "gender-confused") jester who will be entangled in a bizarre love triangle with a king on throne and a king onstage.
He is so pretty with the right amount of make-up and androgynous mannerism. Damn it! He is as elegant and refined as beauties and fairies in ancient Chinese paintings. My heart pounded hard, my hormone raged uncontrollably, and my forehead sweated when he was approached by any male in the movie and shuddered in fear. Aww! Who doesn't have fetish for harmless pretty creature? My heart was shattered into million pieces whenever a faint smile bloomed or crystal tear rolled down his light-complexioned face. Dressing him up in silk and fur, I swear I will become a freaking pervert for him. But since he cannot make it for music, I dump him miserably
3) Dramatic action: a love story might get very boring so movie makers need to resort to action as a plan B to kill any boredom emerging at any point in the show. You will see a jester jumping skillfully on a thin string, dodging arrows 10 times more spectacularly than any arrow-related Hollywood stunt
However, under the grudge that I hold against all the contemporary Korean productions, these selling points are not convincing enough to explain its being a highest grossing (over $85,000,000 in domestic receipts) Korean movie in history with 12.3 million viewers until the horror film The Host surpassed the record in summer of 2006. I wonder what sort of voodoo does the movie cast on IMDB to give it such an
alluring review and a high rating of 7.6/10
nearly matching the 7.8/10 rating of "Farewell my concubine". Overall, I think the movie is undeserving of whatever bombastic attention the world has paid. Reason:
1) Characters' mental progressions were poorly developed and elaborated. Most of the characters have a stereotype linear mental development. Subjected to such politically and spiritually complicated circumstance, characters should have been better off switching/changing or growing his way of thinking/attitude to adapt to current condition. Keeping unchanged traits and behaviours after all the up and down is definitely not a human nature. It is more like folklore character development. Unfortunately, the movie did not manage to do such an essential characterization. To be honest, they actually had made some attempt but failed miserably. The part that each character was provided was too shallow and too narrow to expose their inner lives to viewers. It might be due to the folk-lore origin of the story or the heavy workload to tell a love story and political decadency at the same time. Still. I think it is a huge waste of brain matters, man labour and money because those actors had more potential to offer and the movie had not fully utilized them.
2) The directors might purposely use that vivid cinematography to emphasize on the folklore theme and to distinguish itself from common real-life cinematography used in contemporary movies. However, at least for me, that cinematography reduces the serious historical aspect of the movie, making it far from reality, thus, disconnected with audience self-orientation. The audiences wake up after movie wondering if the thing they have watched is for real or not, of course in a not very good sense.
3) To utter out a meaningful lesson behind the movie, the director has mercilessly overdone his characters to the extreme: extremely powerless, extremely persevere and especially extreme bad, extremely tyrant. I think it is so impossible for any human beings. The king in the movie is a tyrant whose unhappy childhood was abusively deprived from maternal love due to royal power covetousness.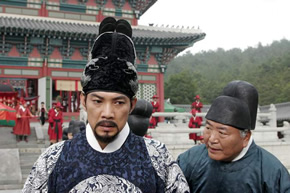 He grows up becoming a psycho craving for so many types of love, from sexual love to companionship that he mistakes one for another quite often. Nevertheless, he knows to treasure none of them. As long as those things bring him pleasure, he is willing to give up everything even his dignity as a king for them. But as soon as those things cannot catch up with his desire or upset him at 1/10 of what he has done to the others, it doesn't take him a second thought to cold-bloodedly behead a person 10 minutes ago he has just vowed his love for. I believe in virtue ethic so I don't accept a movie with no value like this. It is like using an anti-example to teach a lesson or having medicine with stronger side-effect. If you want to lecture on a value, why not use that value itself as an example? If it no use for you to show a beast if you want people to understand the meaning of a beauty. Why don't you show them a beauty? In this aspect, "The King and The Clown" must kiss "Farewell my Concubine" in the toes.
4) The death of center character: Kong-gil means nothing. It is a suicide rather than a sacrifice. It is running away rather then fighting for the loved one. It is accepting the fate rather than trying to change things for the better. Compared to Douzi (
Leslie Cheung
) of "Farewell my Concubine", Kong-gil's love for his master is blind but naïve and cowardly. It could be better if Jun-ki's acting skill could be half of Leslie Cheung brilliant rendition
Douzi gives 200% to the love of his life. He is an ultimate sacrifice
Futhermore, Douzi had to endure a much greater pain that Kong-gil which also makes his love more beautiful. In the end of "The King and the Clown", Kong-gil and his master get together in heaven for sure since they die together. But in "Farewell my Concubine", Douzi goes to heaven alone with his love unrecognized by his object of love. If Kong-gil dies because his master loves him, Douzi dies because his Da Ge cannot love him the way he wants. If there is anyone he could meet in heaven, it is his love rival, his Da Ge's wife.
5) No distinctive cultural background! This Korean movie bluntly stole traditional Chinese Opera from "Farewell my concubine" even shamelessly ripped off the content of the play. If you have watched how many physical and mental challenges Chinese Opera singers have to overcome to rise to fame in "Farewell my Concubine", a short skit played by untrained jesters in "The King and the Clown" is really lame, ridiculous and literally clown!
Original Version
Ripped-off version
For any brainless dumbass who has said that "The King and The Clown" is a 2nd "Farewell my concubine", I will smash your head against the wall, open up your skull, take out your brain, fix it until you can say that "Farewell my concubine" is unmatched then I will put it back. See, I am so nice. Be more open-minded, i will make it easier for you.
To conclude, I know I am a bit harsh on "The King and the Clown" but in all sincerity I say you had better spend money on "Farewell my Concubine" not only because "Farewell my Concubine" DCD is in promotion "2 for $25" at HMV but because it really opens your eyes to what is truly called a gay LOVE.